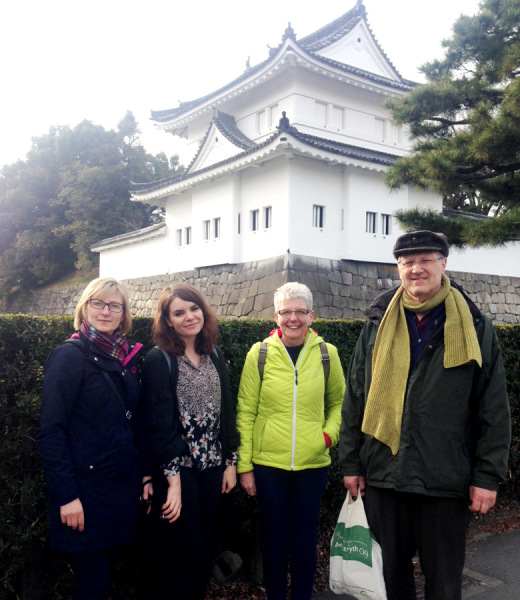 Click here to read their diaries
Profile of New Residents in 2017
Click here to see past
​Air in Kyoto

1) AIR (Artist in Residence) in Kyoto 2017

​

All members can apply for Artist in Residence (AIR) in Kyoto 2017 except Japanese members (they can apply for AIR in UK in summer instead).  Because we do not have much time for AIR in Kyoto 2017, the following conditions apply. Do not worry if you do not have time for this as you can apply for AIR in Kyoto 2018 whose application is now open. (see 3)
You must apply by 20th January 2017. Then, 

on 25th January 2017 we will anounce the 

3 residents for AIR. 


The selected 3 residents must prepare in the next two months and purchase their own return air ticket.

The selected residents will  stay at a comfortable house in Kyoto together (see photos). There are 2 single rooms on the ground floor and 1 double Futon room on the 1st floor.  If you wish to take your partner to Japan you can stay at the double Futon room.  We will pay the rent for the house for 3 residents (excluding the partner for the double Futon room if a resident wishes to stay with your partner together). The residents must pay for the small fixed utility bill (electricity, cleaning etc) of 5000JPY (about 38GBP) each. 




Normally, the residency is for two weeks but unfortunately we can only host for 10 days in Kyoto in 2017 so that the residents can go to Tokyo after the 10 days and stay at our house in Tokyo for 5 days at a very cheap rate.




The selected 3 residents can bring works (2-3 depend on size) to Kyoto and exhibit at EWAEE(East-West Artists Exchange Exhibition) which will be held while they stay in Kyoto. 




Only our members are eligible to apply for this AIR in Kyoto. There is no application fee.



​

   The timetable for AIR in Kyoto 2017 is the following: 
​​​

March 25 (Sat)... Arrive in Kyoto and check-in.

March 26 (Sun)... Welcome party (4-6pm)

March 26-31 ....Visit around Kyoto, Nara.

April 1 (Sat) ... Bring works to the gallery. Our staff will prepare for the exhibition.

April 2 (Sun) ...EWAEE opening.  Artists' exchange party (4-6 pm)

April 4 (Tue) ...Residents check out in Kyoto. Option to go home, 

stay in Kyoto (please find your own accommodation), or 

go to Tokyo.

If go to Tokyo...Move to Tokyo on 4 April by Bullet train. Check in at our house in Tokyo.

April 6 (Thu) ...EWAEE in Kyoto closes. Works of residents will be sent to our house in Tokyo. 


April 4 - 8 ...Visit around Tokyo. There are many places to visit and we will provide information.




April 8 or 9 (Sun) ...Leave Tokyo and go back to your country. ​You can stay longer if you wish.




All residents must write their diaries and send to UK office together with images. These diaries will be published almost live at our web-site.



Accommodation 

for AIR 

in Kyoto 2017, 2018


(One house for our 3 (or 4) residents to share)

Sorry ! All 4 residents have been
selected. Please try for 2018 as
​you can apply soon.

​​

Call for Artists!  

(Sorry entries closed. Try for 2018)
2) EWAEE in Kyoto 2017

​

Members and non-members (any nationality including Japanese) can apply for this friendly EWAEE (East-West Artists Exchange Exhibition) in Kyoto which will be held at a beautiful Japanese style art gallery in Kyoto from
April 2 - 6th 2017.  Because we do not have much time before the exhibition starts, following conditions apply.
Entry deadline is on 20 January 2017 but Premium members can apply by 23rd January. 

EWAEE Kyoto 2017 is not a competition so only our available judges will select suitable exhibits in this occasion. So the earlier you apply the better chances you have to be selected.




Entry is very easy: just send images, details of your works, and application form by email. If you are selected then you must send or deliver the work to the specified address in Japan. 




There is a size limitation for foreign artists to send. Maximum size of a box (width + height + depth = within 160 cm for 2D, photos and 90 cm for 3D works. You can apply old works if it was made within the past five years and has not won any top prizes before.




This is a friendly artists' exchange exhibition so no prizes (2018 is proper competition with prizes).  We will announce all selected exhibitors around 25th January. 




Even if you are not selected to exhibit, you are welcom to come to Kyoto to attend the artists' exchange party (Geikyo meeting) which will be held on 2nd April (4-6 pm).

If you are not selected for Kyoto 2017, you will have another chance for EWAAC Kyoto 2018 and call for enytry is July 25 - October 25., 2017 (deadline is on October 25 GMT)



  The timetable for the EWAEE in Kyoto is the following:
January 20 .... Entry closes (some of selections will be made from early entries) 
January 25 ...  Announcement of 25 - 30 exhibitors for EWAEE in Kyoto 2017.


March 20.......  If selected artists wish to send works from abroad to Kyoto they must despatch                                around 20th March in case Japanese Customs stop the works and charge tax.



March 30 ....... If you wish to bring or deliver your work to the gallery please do so before 6:00 pm


Gallery's address ....be Kyoto, 429-1, Anrakukojicho, Kamigyo-ku, Kyoto-city, Kyoto-fu, Japan.                                 Post code : 602 - 0064  Tel: 075-417-1315

​ 

April 1 (Sat) ... Preparation at the gallery for the exhibition by our staff.




April 2 (Sun) ...EWAEE opens at 12:00 noon..  Artists exchange party (4-6 pm).




April 3 - 5 .......Opens at 10 am - 6:00 pm




April 6 (Thu) ...EWAEE in Kyoto closes at 2:00 pm and start to pack works and clear by 6:00 pm.



​
* Our chief organizerof EWAEE Kyoto is Yuki Nakahara. Tel: 09085716419  yuki.nakahara@ewaac.net
Our gallery for EW

AEE in Kyoto 2017

Japanese style beautiful gallery in Kyoto
Friendly staff of the gallery
We use Ground and 1st floor.
Ground foor exhibition space
1st floor exhibition space
Japanese room for small exhibits